REF: Nido Bonito - Appartment at Torrevieja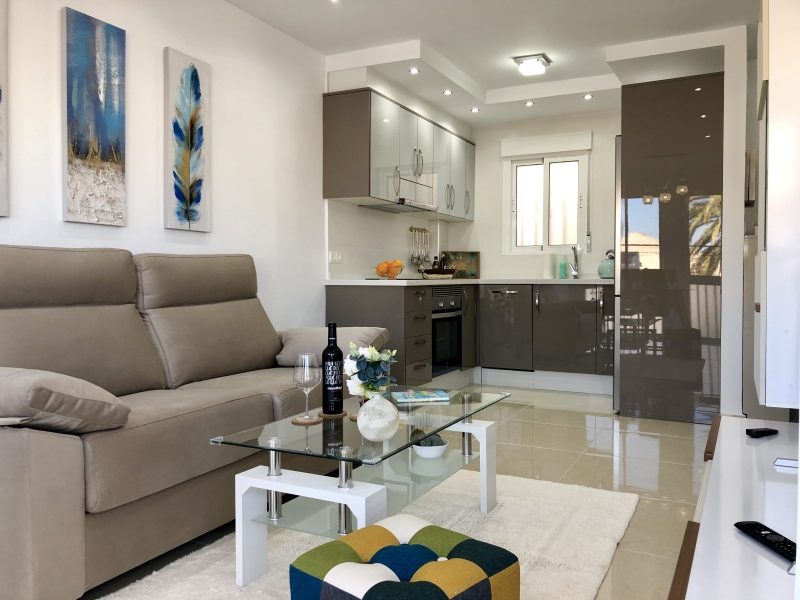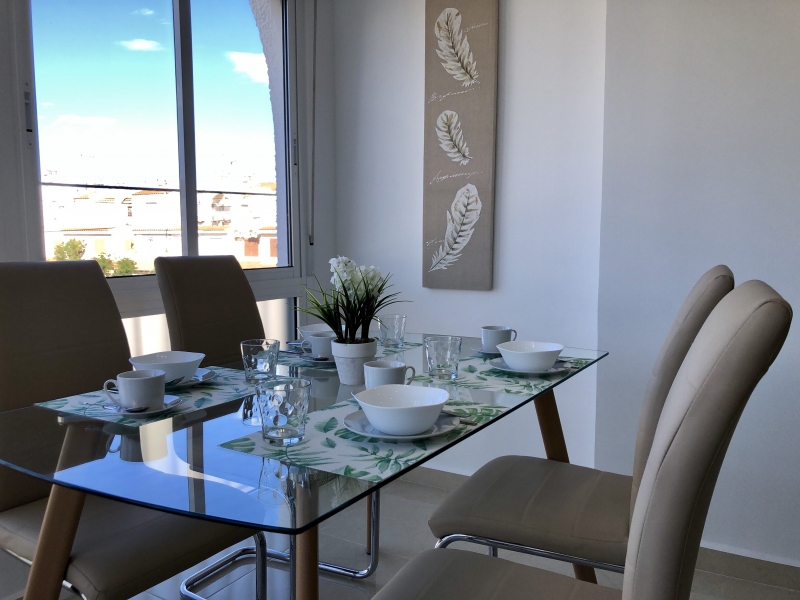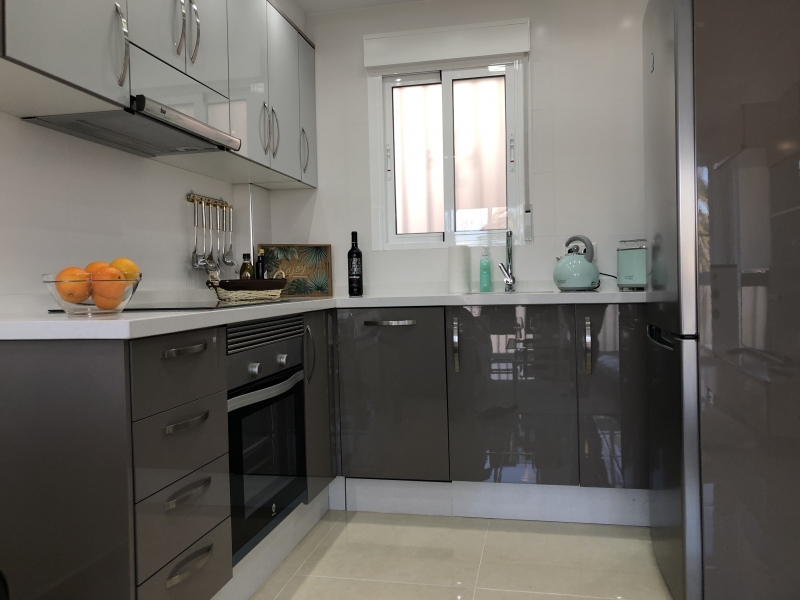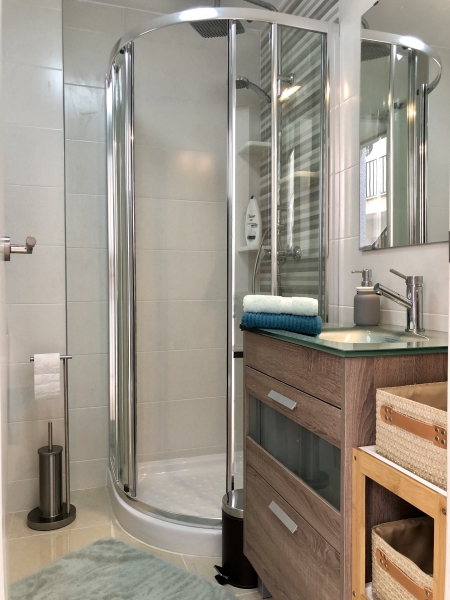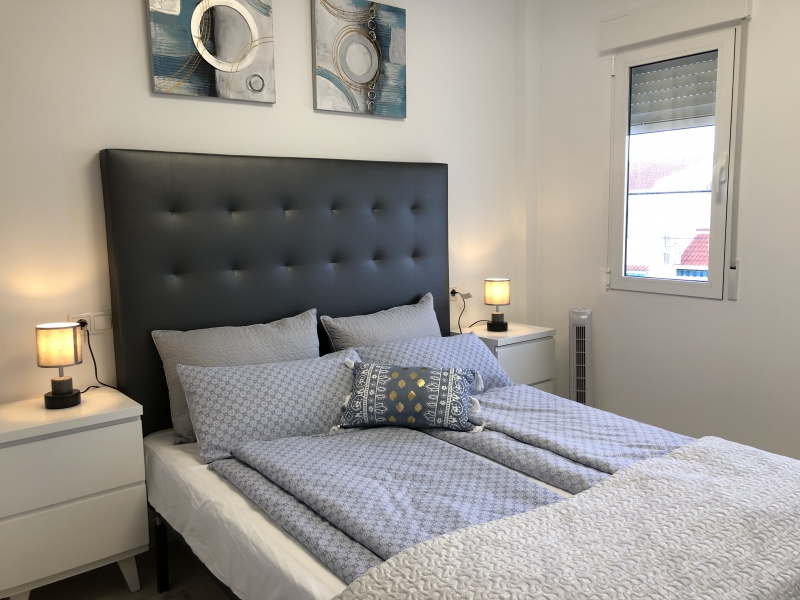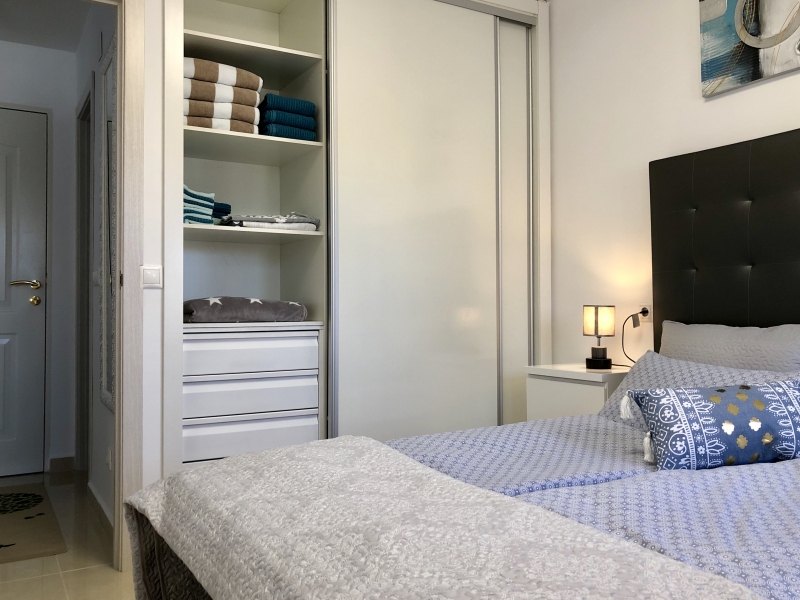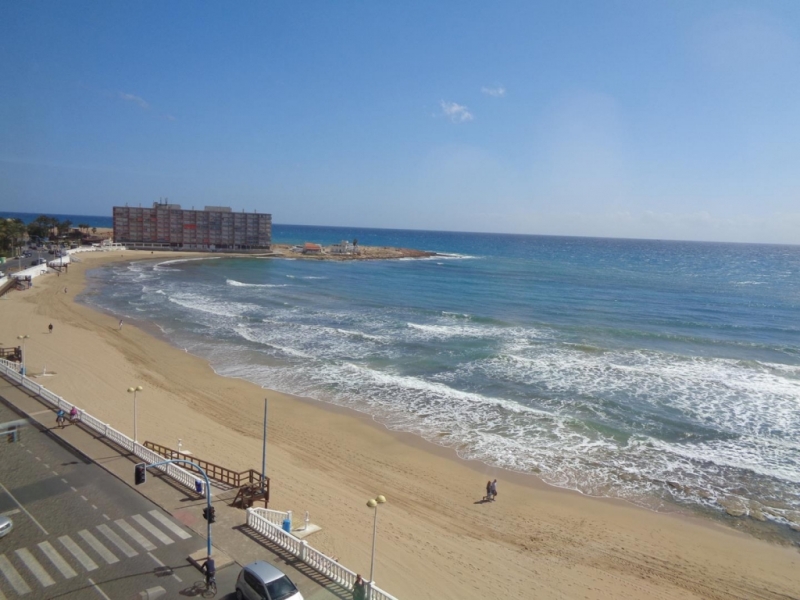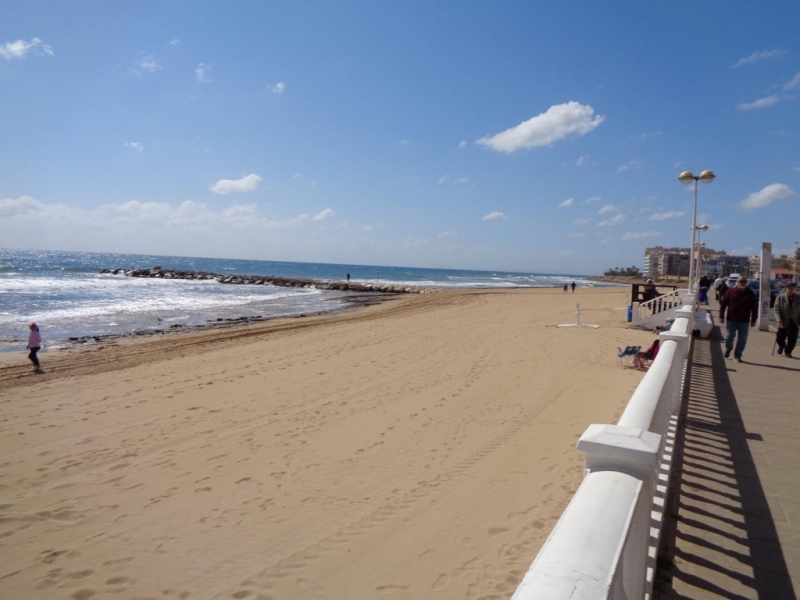 max People:
4
Plot size (m²):
Lliving space (m²):
50
Bedroom:
1
Bathroom:
1
Community pool:

Garden:

Storeroom:

Internet:

Distance to the beach:
450 Meter
Description
The sunny, bright apartment with large windows welcomes you with all the amenities of a first-class residence for your holiday. The comfortable living-dining room with integrated kitchen gives the apartment a nice open atmosphere. The new, fully equipped kitchen invites you to cook on holiday. The cozy bedroom has a queen-size bed and a large built-in wardrobe, which offers enough space for your clothes and utensils. In the living room, the sofa bed with perfect fold-out technology offers two other guests a comfortable sleeping accommodation. The bathroom with shower also has a washing machine with integrated dryer. The communal pool is only a few steps away and open from June. The beach "Playa de los Locos" can be reached in just a few minutes by foot, and many more beautiful sandy beaches follow along the coast. You can park your rental car right outside the front door on the roadside for free.
Enjoy all the amenities of a new and modern apartment. Free Wi-Fi, Smart TV in all rooms, and convenient control via smartphone from the music system to the washer-dryer offer a first-class living experience with high comfort. Not only bed linen, towels and beach chairs are included for this special comfort.
The apartment is easy to reach from Alicante airport by taxi, bus, private pick up or rental car. Approximately 40 km away.

Prices
| | |
| --- | --- |
| Season | per week |
| 16.05. - 15.06. | 525 € |
| 16.06. - 31.08. | 665 € |
| 01.09. - 15.10. | 525 € |
| 16.10. - 15.05. | 385 € |
| | |
| --- | --- |
| Deposit | 300 € |
| Cleaning | 70 € |
Availability
2021 >

Januar
Mo
Di
Mi
Do
Fr
Sa
So


1

2

3

4
5
6
7
8

9

10

11
12
13
14
15

16

17

18
19
20
21
22

23

24

25
26
27
28
29

30

31

Februar
Mo
Di
Mi
Do
Fr
Sa
So


1
2
3
4
5

6

7

8
9
10
11
12

13

14

15
16
17
18
19

20

21

22
23
24
25
26

27

28

März
Mo
Di
Mi
Do
Fr
Sa
So


1
2
3
4
5

6

7

8
9
10
11
12

13

14

15
16
17
18
19

20

21

22
23
24
25
26

27

28

29
30
31

April
Mo
Di
Mi
Do
Fr
Sa
So


1
2

3

4

5
6
7
8
9

10

11

12
13
14
15
16

17

18

19
20
21
22
23

24

25

26
27
28
29
30

Mai
Mo
Di
Mi
Do
Fr
Sa
So



1

2

3
4
5
6
7

8

9

10
11
12
13
14

15

16

17
18
19
20
21

22

23

24
25
26
27
28

29

30

31

Juni
Mo
Di
Mi
Do
Fr
Sa
So


1
2
3
4

5

6

7
8
9
10
11

12

13

14
15
16
17
18

19

20

21
22
23
24
25

26

27

28
29
30

Juli
Mo
Di
Mi
Do
Fr
Sa
So


1
2

3

4

5
6
7
8
9

10

11

12
13
14
15
16

17

18

19
20
21
22
23

24

25

26
27
28
29
30

31

August
Mo
Di
Mi
Do
Fr
Sa
So



1

2
3
4
5
6

7

8

9
10
11
12
13

14

15

16
17
18
19
20

21

22

23
24
25
26
27

28

29

30
31

September
Mo
Di
Mi
Do
Fr
Sa
So


1
2
3

4

5

6
7
8
9
10

11

12

13
14
15
16
17

18

19

20
21
22
23
24

25

26

27
28
29
30

Oktober
Mo
Di
Mi
Do
Fr
Sa
So


1

2

3

4
5
6
7
8

9

10

11
12
13
14
15

16

17

18
19

20

21
22

23

24

25
26
27
28
29

30

31

November
Mo
Di
Mi
Do
Fr
Sa
So


1
2
3
4
5

6

7

8
9
10
11
12

13

14

15
16
17
18
19

20

21

22
23
24
25
26

27

28

29
30

Dezember
Mo
Di
Mi
Do
Fr
Sa
So


1
2
3

4

5

6
7
8
9
10

11

12

13
14
15
16
17

18

19

20
21
22
23
24

25

26

27
28
29
30
31

free


reserved

firmly booked